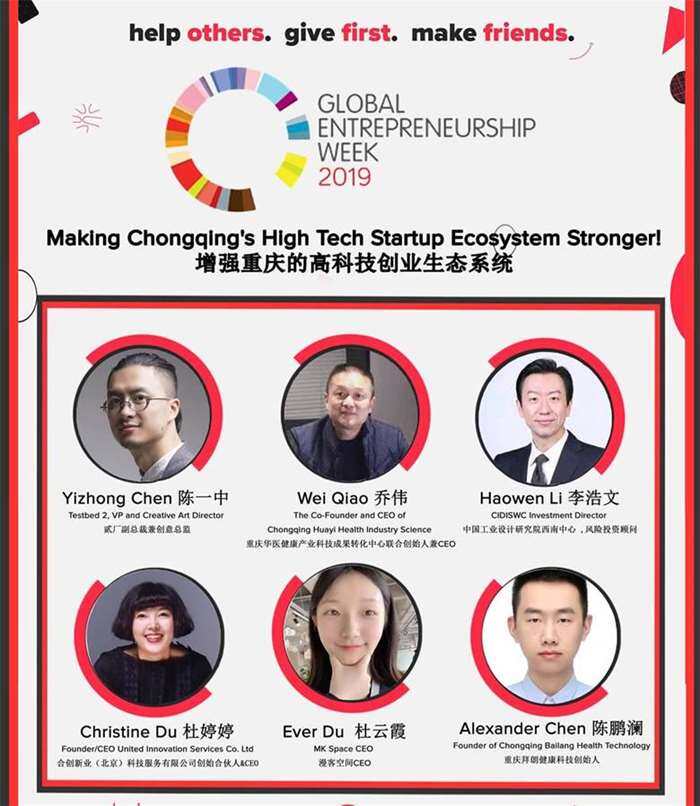 Startup Grind Chongqing Hosts:
#Episode 19 A Special GEW Event:
How to Help Startups Thrive in Chongqing
创业磨坊重庆
#第19集全球创业周GEW特别活动:
我们如何合作
来增强重庆的高科技创业生态系统?
We will discuss:
1.Education :the buidling block for future startups and corporate leaders
2.Finding the blueprint to propel startup ecosystem of Chongqing
3.What strategies have worked in other ecosystems and how can we adapt them for Chongqing?
4.International startups in Chongqing: Relocation, matching and growth
5.The importance of "you succeed, we all succeed": How incubators, investors, government, chambers of commerce, corporate leaders, universities with young talents and community builders co-operate
我们将讨论:

1.教育:未来创业和企业领导者的基石
2.寻找推动重庆创业生态系统的蓝图
3.哪些策略在其他地区的生态系统中起了作用,我们如何将他们应用于重庆?
4.在重庆的国际化创业:迁移,匹配和成长
5."您成功,我们都成功"的重要性:孵化器,投资者,政府,商会,企业领导人,有年轻人才的大学和社区建设者如何合作
Global Entrepreneurship Week is the world's largest celebration of the innovators and job creators who launch startups that bring ideas to life, drive economic growth and expand human welfare. During one week each November, GEW inspires people everywhere through local, national and global activities designed to help them take the next step in their entrepreneurial journey. These activities, from large-scale competitions and events to intimate networking gatherings, connect participants to potential collaborators, mentors and even investors — introducing them to new possibilities and exciting opportunities. More than 165 countries now celebrate Global Entrepreneurship Week each November.
全球创业周是全球创新者和创业者最大的庆祝活动,这些人通过创业将创意应用到实际中,推动经济增长并增加人民福利。 每年的11月,在一周的时间里,通过当地、全国以及全球活动,将全世界数百万的年轻人联系起来,帮助他们激发创业和创新的潜能。创业者、学生、教育者、企业、商业领袖、雇员、非营利组织领导、政府官员等将参与一系列活动,发动社会各界的力量,让人们行动起来,通过推动当地和全球的创业活动,加速全球创业事业的发展。这一全球性的创举激励着年轻人开发创新能力、想象力和创造力。现在有165个以上的国家每年11月份都庆祝全球创业周。
The annual Global Entrepreneurship Week(GEW)is here! Doing our part for the community, Startup Grind will host a special event for founders, stakeholders and tech-park leaders.
Firstly, there will be a founder's afternoon tea roundtable discussion。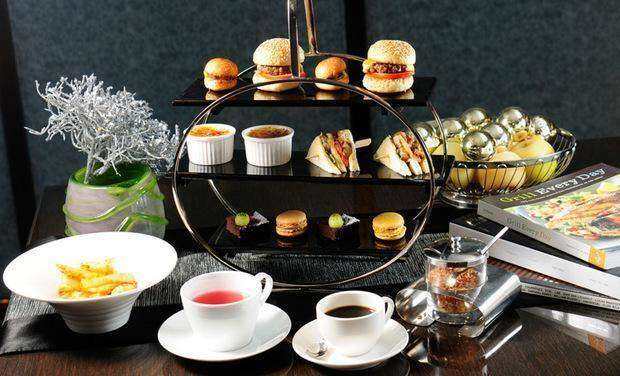 The afternoon tea roundtable will function as a Town Hall style meeting. Each founder can share their concerns and issues and stakeholders in our ecosystem can also listen and ask questions to help us all reach some concensus on what our startup community needs most.

Then after a short break,we will listen to an Expert Panel discussion by some of Chongqing's top business leaders on building a better environment for tech enterprises where corporates and startups can interface well together 。
Expert Panel disussion topic:
How Can We Partner to Make Chongqing's High-Tech & Startup Ecosystem Stronger?
一年一度的全球创业周(GEW)来了! 作为社区的一份子,Startup Grind将为创始人,利益相关者和科技园区领导人举办一场特别的活动。
首先,我们会举办一个创始人的下午茶进行圆桌讨论。圆桌下午茶将是市政厅风格的会议。 每个创始人都可以分享他们的担忧和问题,生态系统中的利益相关者也可以倾听并提出问题,帮助我们所有人就创业社区最需要什么达成共识。
接着,一个短暂的休息之后,由重庆最顶级商业领袖组成的专家小组将讨论如何为科技企业建立更好的环境,使企业和创业可以很好地相互联系。
专家小组讨论主题:我们如何合作来增强重庆的高科技创业生态系统?
Host:Clark Rubino
主持人:Clark Rubino
Startup Grind Chongqing, Chapter Director
CQ Bright Ideas Business Information Services Founder CEO
全球创业磨坊重庆分部负责人
重庆良计商务信息服务有限公司CEO
Special Co-host:Christine Du
共同主持人:杜婷婷
Founder/CEO of United Innovation Technology Services Co. Ltd.
Chairman of Chongqing Software Park Co., Ltd. Domestic experienced large-scale industrial park operation experts and traders, outstanding speakers, sharers and communicators.
合创新业(北京)科技服务有限公司创始合伙人&CEO;重庆软件园有限公司董事长。
国内资深的大型产业园区运营专家和操盘手,出色的演讲人、分享者和传播者。
Christine Du , Master of Accounting from Dongbei University of Finance and Economics, worked and lived in Germany, the US and other countries for many years. She has led the construction, operation and management of many large-scale domestic famous parks, including Chengdu Tianfu Software Park, Chengdu Jingrong International Plaza, Dalian Software Park, Wuhan Guanggu Software Park, Yangzhou Software Park, Beijing Kingdee Software Park, Su Gaoxin Software Park and Tianjin Service Outsourcing Industrial Park, etc. The Chongqing Software Park, which is currently operating, has settled in Chongqing Economic Development Zone. It was signed as a major project at the China International Intelligent Industry Expo in 2019 and opened on September 16, 2019 by the Deputy Secretary of Chongqing Municipal Party Committee and Mayor Tang Liangzhi. The total investment of Chongqing Software Park is 10 billion yuan, with an overall volume of over 1 million square meters. She is an angel investor in several high-tech projects, and the well-known earthquake warning program is one of the investment cases.
杜婷婷女士,东北财经大学会计学硕士,曾在德国、美国等国家工作生活多年。先后主导建设运营管理了多个国内大型知名园区,包括成都天府软件园、成都菁蓉国际广场、大连软件园、武汉光谷软件园、扬州软件园、北京金蝶软件园、苏高新软件园及天津服务外包产业园等。目前正在运营的重庆软件园落户重庆经开区,于2019年中国国际智能产业博览会上作为重大项目签约并于2019年9月16日由重庆市市委副书记、市长唐良智开园。重庆软件园总投资100亿元,总体量100万平方米以上。杜婷婷女士拥有丰富经验配合地方政府进行创新孵化、产业园区投资开发、招商运营管理,善长将国内企业客户、国际合作伙伴、专业服务体系、专业园区运营团队以及运营管理能力等整合投入打造区域高科技产业发展的健康生态。她是多个高科技项目的天使投资人,家喻户晓的地震预警项目是投资案例之一。
1.Ever Du, MK Space, CEO
杜云霞,漫客空间,CEO
One of the founders of MK space, the current CEO of MK space. MK space is a cluster registration and public innovation sharing service platform approved by the administrative committee of liangjiang new area in 2018. In the past year, more than 1,300 enterprises have settled in MK space. At the same time, MK space is also a national model base for tax education, chongqing youth innovation and entrepreneurship base for Hong Kong and Macao, model base for cluster registration, and an alliance unit for scientific and technological innovation.
漫客空间创始人之一,现任漫客空间CEO。漫客空间是于2018年经两江新区管委会批准设立的集群注册众创共享服务平台,一年多来入驻企业已达1300余家,同时漫客空间也是全国税收普法教育示范基地,重庆市港澳青年创新创业基地,集群注册示范基地,科技创新联盟单位。
2.Haowen Li,CIDISWC, Investment Director

李浩文,中国工业设计研究院西南中心,风险投资顾问
3.Yizhong Chen,Testbed 2, Vice President and Creative Art Director
陈一中,贰厂常务副总兼创意总监
Yizhong Chen graduated from the Oil Painting Department of Sichuan Academy of Fine Arts。 He exchanged for the Michael Brynntrup video class at the Brunswick University of the Arts in Germany. He was selected as an expert on the American IVLP Leadership Program. He is currently the VP/Art Director of TESTBED2。 He was the head of the international project of Ling Contemporary Art Center and the coordinator of I SEE International Video Art Festival in China. He has participated in various international art and cultural projects. In 2014, he joined the TESTBED2 startup team, and participated in the project planning, design, construction and investment operation management, and directed the filming experimental documentary "Testbed2".
陈一中毕业于四川美术学院油画系,德国布伦瑞克艺术大学Michael Brynntrup影像班交换留学,美国IVLP领导力项目入选专家。现任贰厂常务副总经理/艺术总监。曾任嶺当代艺术中心国际项目负责人,I SEE 国际影像艺术节中国区协调人,多次参与组织各类国际性艺术及文化项目。2014年加入「TESTBED2贰厂」初创团队,全程参与项目策划、设计、建设及招商运营管理,并执导拍摄实验纪录片《贰厂》。
4.Wei Qiao
The co-founder and CEO of Chongqing Huayi Health Industry Science and Technology Achievement Transformation Center
Vice President of Chongqing Urban Marketing Research Association, Senior Consultant of Chongqing Community Business Development Promotion Association,Member of the Ethics Committee of the First Affiliated Hospital of Chongqing Medical University
乔伟
重庆华医健康产业科技成果转化中心联合创始人兼CEO
重庆城市营销研究会副会长
重庆市社区商业发展促进会高级顾问
重庆医科大学附属第一医院伦理委员会委员。
Wei Qiao graduated from Chongqing Medical University. He used to be a doctor. Later he was transferred to the vice director of the Yuzhong District Science and Technology Commission. He established the second largest Internet industry park in Yuzhong District. During his tenure, he cultivated Dalong.com, Pig Bajie, cqmmgo and other Chongqing local Internet companies. He served as vice president of Shenzhen Dalonghui Warehousing Service Co., Ltd.,founder and chief strategic consultant of Chongqing Huayi Kangdao Technology Co., Ltd., and investment director of Huayang Jinding Equity Investment Fund Management Co., Ltd. Now he is the co-founder and CEO of Chongqing Huayi Health Industry Science and Technology Achievement Transformation Center
乔伟毕业于重庆医科大学,曾经是一名医生,后调任渝中区科委副主任,在渝中区建立了全国第二大互联网产业园,任职期间培育了大龙网,猪八戒,购物狂等重庆本土互联网企业。后下海经商,曾任深圳大龙汇仓储服务有限公司副总裁,重庆华医康道科技有限公司发起人兼首席战略顾问,华阳锦鼎股权投资基金管理有限公司投资总监。
现在是重庆华医健康产业科技成果转化中心联合创始人兼CEO。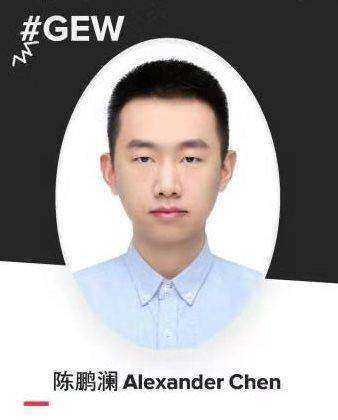 陈鹏澜,重庆市发改委专家评委,中国创新创业大赛评委导师,重庆拜朗健康科技创始人,多年从事企业创新孵化加速工作,具有丰富的创业实战经验,善于为企业整合产业链资源。从业期间累计孵化创业团队80多家,帮助孵化企业获得各类风投超过3亿元人民币,参与孵化企业累计估值超过20亿人民币​
Chen Penglan, is an expert judge of Chongqing development and reform commission, judge tutor of China innovation and entrepreneurship competition, founder of Chongqing bailang health technology, has been engaged in business innovation incubation for many yearswork, has the rich starting an undertaking actual combat experience, is good at for the enterprise conformity industrial chain resources.During the period of employment, there are more than 80 incubated entrepreneurial teams, helping incubated enterprises to obtain more than 300 million yuan of various types of venture capital, and the accumulated valuation of incubated enterprises is more than 2 billion yuan RMB
Register for Town Hall Meeting 报名
市政厅会议

Activity Language: Chinese & English
The Event is in Chinese &English
活动语言:中文&英文
Please bring your own earphones to listen to the translation
Please be prepared to bring your own earplugs
For listening to the scene

请准备带自己的耳塞
为听现场翻译
November 22, 2019
2019年11月22日
Main Event Only
仅限主活动
早鸟票(30张) ¥55
Early Bird Tickets (30 tickets) ¥55
早鸟票含纪念T恤(10张) ¥80
Early Bird Tickets w/Shirt ¥80
普通票(30张) ¥80
At Door Tickets (30 tickets) ¥80
普通票含纪念T恤(10张) ¥100
At Door Tickets w/Shirt (10 tickets) ¥100
CIDI (Chongqing) Industrial Design Institute
重庆市九龙坡区罗汉沟27号万科023创意天地5幢2单元1层
1/F, Unit 2, Block 5, Vanke 023 Innovation Center, 27 Luohangou, Jiulongpo District, Chongqing Municipality, People's Republic of China
Please help us recommend relevant questions for the fireside chat interview:
It's easy at slido.com
enter the code sgcq19
look at the future event at the bottom of the screen.
click or touch to enter,
type your question in English or Chinese.
remember to include your name
3 top voted questions win a prize, like a free T-shirt.
也请帮助我们推荐相关的问题, 为炉边聊天采访:
1.首先进入 slido-com 网站
2.输入代码 sgcq19 点击屏幕的底部。
3.用英文或中文输入您的问题,并填上您的名字
4.投票在前三名的将免费获得一件纪念T恤
谢谢大家!
扫描二维码查看活动场地
Scan to check the location
Agenda:
4:15 pm Gather
4:30 pm CQ Startup Community Town Hall meeting w/ afternoon tea
5:00 pm Check In
5:15 pm Networking & Food
5:30 pm Introductions and speech about the topics/startup grind
5:45 pm Panel discussion
6:30 pm Q&A
7:00 pm Networking
7:30 pm Closing Remarks
4:15 pm 创业者企业家集合
4:30 pm 创业者和利益相关者创业公司市政厅会议
5:00 pm 签到
5:15 pm 交流环节 & 提供饮食
5:30 pm 嘉宾演讲
5:45 pm
6:30 pm 互动问答
7:00 pm 交流环节
7:30 pm 结束语

Startup Grind 是一个教育、启发并连接企业家的全球性独立科技创业社区。通过举办活动、媒体传播以及和Google for Startups 等组织的合作,我们在全球125个国家、超过600个城市,推动当地创业生态系统的进一步完善。Startup Grind is the largest independent startup community, actively educating, inspiring, and connecting over 2,000,000 entrepreneurs in over 600 cities. We nurture startup ecosystems in 125 countries through events, media, and partnerships.
Clark Rubino
全球创业磨坊重庆分部负责人
重庆良计商务信息服务有限公司|CEO
Startup Grind Chongqing
Chapter Director
CQ Bright Ideas Consulting Services Founder CEO

George Chobanyan
Startup Grind Chongqing,
Chapter Co-Director
George
Wechat:
George605700
Follow Startup Grind CQ/关注我们:
For more information, please click startupgrind.com/chongqing
or scan the QR code below